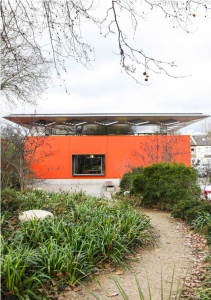 In the precinct of the Hospital
outside its jurisdiction
an Orange Box –
tangerine puzzle between worlds
roof in flight
entrance hidden
like something from the pages of Ruiz Zafon
or Harry Potter –
visible
when you know where to look.
The visible and the invisible,
the in and the out,
is at the heart of this place.
We come and we go.
Lost on the outside
I am lost on the inside.
A moment of suspension,
rush of anonymity.
I could be anyone
feel the need to identify myself
despite the open door,
look for a gatekeeper.
A woman volunteers a smile.
The Box unfolds
an origami of light.
The fickle Spring sky is everywhere.
Rainbows glimmer on wood
as the busy kettle serves
the Kitchen Table –
the hub, nub, agora
where keen minds and long memories
dissect the latest bulletins
from the ruinous body politic.
Away from the Table
quiet spaces offer themselves
or hide round corners,
hearth and book
flower and stone
home and not home.
A stairway points skyward
self-evident
as a ladder in a children's game
or Jacob's dream.
Up here, the Team
keep the architectural starship
live on the radar.
The roof beckons –
sun and shade in equal measure,
tree and bird
reaching, curling, swooping,
the leafing of the vine
a promise in the making.