Read by Flaminia Cinque and Yael Gerson
Return to Poem
The staff of West 6 all know Sarah's mug – a giant-size souvenir from Chessington Zoo. Sarah's early experiences with cancer led her to work in this field, like other staff (see Everyday Heroines). In conversation she refers to herself as Matron and Eirene, the Ward Sister, calls her Manager. This divergence in job title comes up again in Woman of Heart (where a Unit Manager is also known as Senior Sister). At the time of writing, Sarah and the sitter of Woman of Heart were the longest serving members of staff involved in cancer care.
Snappy blue frames
give her the air of an agony aunt
or custodian of some rare collection –
arguably both
within the remit of the daily round.
She holds me in her gaze,
terrier-like, true,
then disappears
caught up in "some bureaucratic nonsense."
I wait
along with a mug of brew
over which clamber and coil
the wildlife of Chessington.
She reappears –
"You get stuck" –
and strides off again
with the efficiency and grit
of the seasoned walker.
Finally
retrieving the brew
she says
"Ok we're ready."
I fall in.
In the office
cycling apparel
un-matronly stowed.
Grey marl of sky backlights
the sprung presence.
She's up at 6.15
for a swim before work
plays badminton after –
energy creates energy
her mantra.
She's walked the Douro and the Rhône Valley,
Piedmont, Bordeaux, Alsace,
with Russia and Finnish Lapland to come
on ski and sled,
Cuba, Calabria, Canada, New Zealand
on the horizon.
As she speaks
the hands move
hair to neck, chin to cheek,
mapping coordinates.
"Every year I plan to travel to somewhere
I haven't been."
At the age of fourteen
a friend with leukemia
brings her to healthcare.
She's a natural.
She comes to Charing Cross in 1986.
We're joined by the Ward Sister
I observed at the desk
like a switchboard operator
with crossed lines.
Her voice chimes in soft harmonic
with the other
whose firmer notes tell the turning of the soil.
Matron and Sister
Earth and Water
in perfect alliance.
She began as a nurse in Manila
looking after the rich and famous
including the President
but for all that
didn't get paid much.
Exchanging a "posh hospital"
for the NHS,
she worked at Sandwell General
and Pembridge Hospice
in Palliative Care.
She's worked with Sarah
four years now.
"She's an exceptional nurse,"
says Sarah,
"kind, extremely hard-working,
very very supportive of all the staff –
and clever. In another lifetime
she could have been a doctor!"
Eirene,
the clicking of her pen a modest tut,
gives as good as she gets.
"Sarah gets out and does things
other managers don't do.
She even unblocks toilets and moves beds!"
"We have quite a laugh at work,"
grins Sarah.
Eirene concurs,
"There's a lot of laughter!"
To the outsider
this may seem strange.
Death is a constant here –
"We had ten deaths a week
all through the summer."
Laughter
rooted in mutual care
brings resilience.
"The only thing that upsets me
is when the relatives thank me,"
says Eirene.
"I nearly cry."
Sarah nods.
"Life can be incredibly short
so staff look after themselves."
For Eirene
a feel-good movie and dinner with friends
does the job.
She's a cook herself,
Filipino food a speciality.
For Sarah
the promise of good food and wine
comes after a strong walk.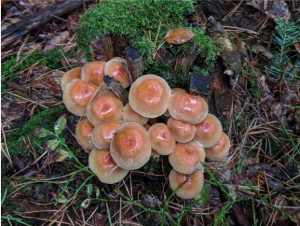 She plans to retire to Derbyshire
– ideally in striking distance
of Hathersage's outdoor pool.
Everyone will be welcome
to walk, eat and partake of the fine wines
in her cellar –
she has 150 bottles laid down.
Eirene's keeping her options open.
She may go home to the Philippines
but first there's travelling to do –
Canada, Japan, maybe Mexico?
"I don't know where I'm going yet,"
she smiles beguilingly,
"I'm still single."
In New Zealand
there is a lake
where Earth and Water
hold together
in a stillness
so perfect
it is joy.
In the busyness of Ward 6
Matron and Sister
hold together
so patients, nurses,
apprentice nursing associates,
healthcare assistants,
domestic and kitchen staff
have the possibility
of joy.