Read by Siobhán Nicholas
Return to Poem
At the time of Di's residency, the way to the main cancer outpatients' clinic had been re-routed to avoid dangerous leaks from the roof. The power outage that is mentioned was one of many, indicating a crumbling real estate that is held up almost physically by its people. At your first visit to the chemotherapy unit, you have a long one on one meeting in which you receive a great deal of information about possible side effects, schedules and what to do if you are unwell. As the sitter describes working with her buddies and 'adopted daughters' (see French Connection), she also offers advice to those considering a career in chemotherapy nursing.
A feis is a traditional Gaelic arts and culture festival. It's commonly used to refer to Irish dance competitions.
The heart of the face
tells the heart within –
generous, grateful,
open to Grace.
There's a touch
of Bette Davis glam –
brunette curls
frame eyes
sea-blue,
rose mouth
pink beatitude.
In the corridor
they come thick and fast –
the queries, the questions, the asks.
She parries with aplomb,
seeking to turn the situation
not to advantage
but win-win.
"We'll lock the door,"
she says
finally
returning with the tea.
Time with her is a definite win.
This is a woman for whom
talking about herself
is a guilty pleasure.
Born in Oxford,
at the age of twelve
the family return to Ireland
and the family farm –
three summers spent
in Galway's boggy beauty
where hard graft permeates
soil and soul.
"Eaten alive" by midges in the bog,
she lifts the peat, piles it to dry,
stacks hay, milks the cow.
"The hardest thing!" she declares
tugging on the stubborn udder
in the hospital corridor.
She comes to healthcare
through her mother,
an Auxiliary in St John's Ambulance,
at eighteen begins at Charing Cross.
She's worked in Cancer Services
for thirty-three years now.
The badge says Unit Manager
but Senior Sister she agrees
has a truer ring to it –
"rolls off the tongue."
Chemotherapy
is "a physically and mentally demanding place to work,"
she says.
"We are the last pit stop. We end up picking up the pieces here."
To her this is predictable.
The unpredictable however
also happens.
When I came to introduce myself
there was a sudden power outage.
All hands on deck. The ship held fast.
She's full of praise for her hardworking crew –
"It's bang on from 9 am till the last patient leaves."
Warns novices
"You have to want to be here. It's not for the fainthearted."
Then, with a smile inviting as a peat fire, adds
"You'll always remember your chemotherapy buddies."
Seeing her team
"develop and grow on their journey as cancer nurses"
is a gift that needs to be nurtured.
"It's important to keep their spirits up, inject positivity."
She thanks them daily, includes the admin staff.
The practice of gratitude
goes beyond hospital walls.
She's moved to thank all those
whose contribution is often ignored –
like street sweepers.
"That little thank you makes all the difference,"
she reflects,
then, laughing, confesses to being
a fully paid up member of the litter squad.
One thing she regrets
is not having time to talk to patients.
"The demands outweigh the resources."
But for the pre-treatment consultancy
she's there.
"Whoever we look after here,
I don't launch into this and this,
I ask their name, say tell me about yourself,
build up that rapport."
The bright gaze is still,
mindful.
Nobody wants to be there.
At home in Middlesex,
she has a rescue dog, three cats,
and a bedroom with over a hundred trophies.
The trophies belong to her daughter,
an Irish dancer who leapt and tapped her way to the top
from the age of four.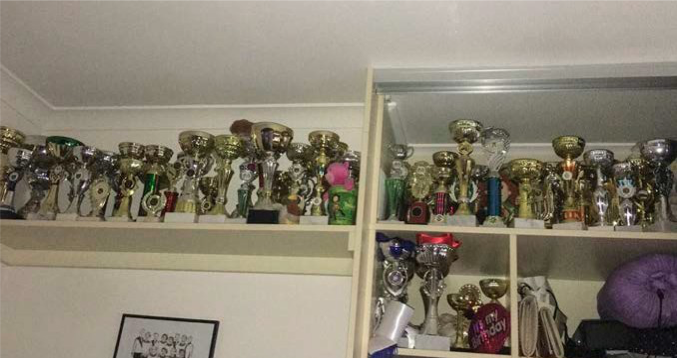 Mother and daughter
"shared Premier Inn rooms round the world."
In 2014 she danced Figure, Cèilidh and Solo
in the World Irish Dancing Championship in London.
Her brother it seems had no desire to step into
Michael Flatley's shoes.
The days of rushing from ward to feis
she recalls with an energy
that powers her still.
She loves cinema, theatre,
and in her middle years
has discovered "the cruising life."
The islands of the Caribbean, fjords of Norway,
are just for starters.
Son and daughter have their own lives now,
but maternal duties are not done.
A host of "adopted daughters"
are in her care –
witness the lively huddle in
East 6.
They are drawn to her
because she understands –
cats, dogs, hair, hormones
and hard work,
patients, nurses, families
and fellow travellers –
because
she is a woman of heart.