Return to Poem
Chairs round the kitchen table were available to all equally. No one had precedence, but Dave favoured a particular chair, which was universally acknowledged as his chair.
In the past Dave and Ray belonged to two distinct and opposing sets  – Mods v Rockers who wore different 'uniforms'. Dave's and Ray's uniforms speak to their sparring relationship. They joined people like them (that is, with prostate cancer) in the biopsy queue. In line, they waited one after another for treatment: at once 'you plural' and 'you singular.' Subsequent references to the music that fits with each of their sets shows too that the boundaries between Mods and Rockers both separated and connected them. The Goldhawk Social Club in Shepherd's Bush is where Roger Daltrey hung out and regularly gigged with The Who.
A sitter's story is sometimes told by some other person in the presence or absence of the sitter. Both instances occur here – Ray tells a story about Dave and Dave listens to a story about himself but Andreas' portrait, the third musketeer, is told in his absence. It is a portrait by proxy and also a work of the imagination since Di never met this 'sitter'. His likeness emerged gradually over several weeks when Di heard what had happened in between her visits.  There was a figuring and reconfiguring of information as time passed, rather like the 'origami' of On First Visiting Maggie's West 
"The Three Musketeers,"
they say,
but only two are in service
round the Table.
Diagnosed at the same time,
they're old sparring partners
since Dave jumped the biopsy queue.
"I didn't only say Oi!" says Ray.
"Now I can't get rid of him."
He gives Dave an almighty squeeze
on the kneecap
that prompts a yelp worthy of Beaky,
Dave's greyhound, an old racer –
called Beaky 'cause of his big beak
says Dave
tracing the muzzle in the air.
Always tells it like it is.
With tattoos and grins piratical
they're like a couple of old-time comedians
always quick off the mark
with ready wit and repartee.
Weren't always.
"Ray was a bag of nerves when he came in,"
says Dave.
"This place lifts you."
Ray, snaffling Dave's cake, nods.
One thing they can agree on.
Outside
the Nordic Walkers limber up.
The leader checks in.
Some are sore, some ache,
one says she's always under the weather.
The naming round the circle falls apart.
"Never works," the leader laughs.
Ray joins them,
but Dave's grounded with a broken rib
since Beaky pulled him over.
"The sod. Would have to be the side I lie on."
A cloud of histamine descends
from the sweaty London sky,
swallows the walkers.
Dave remains in the chair
that's got his name on it.
His grandad was a miner from Matlock
then the family moved to Shepherds Bush.
All rank QPR supporters now
save one brother, a Spurs fan.
"An outcast," he snorts.
The family took him down
since he was five.
On match days
he gets fish and chips on the way,
pie and mash with gravy after.
Beaky gets his share.
He's not a fussy eater,
even likes a bit of curry,
Chinese as well.
But you won't get him on a bus.
"Goes in a taxi though.
A luxury breed."
He talks of greyhounds
past their use-by date
dumped like garbage.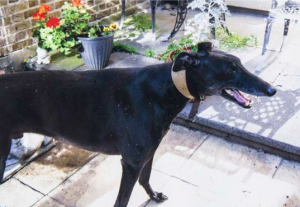 The eyes that like a bit of fun
grow luminous.
Behind the banter
the chiaroscuro of the soul.
The conversation turns to abseiling.
Several have signed up.
Not him.
Not since he took a nasty tumble
from the top of a ladder
he didn't tie off.
Dismissing the Spidermen,
he talks of music back in the day –
Marty Wilde, Joe Brown,
and, a glint in his eye,
Marianne Faithful.
"Be very careful, dear,"
says 'Saint' Peter, leaning in,
"he's trouble."
There's a diamond wink
from the earring he's worn
since he was a Rocker.
"You are what you are,"
he says with an impish grin,
"inn't you?"
Ray was a Mod,
"suited and booted."
Wore a Parka not a leather jacket
like Dave
who once bought a Parka by mistake.
Listened to The Who,
local to where he grew up
in Shepherds Bush –
though there's some debate
whether they were Mods.
And what about The Stones?
Mods or Rockers?
The Moody Blues –
no question there.
He was the youngest of five,
remembers his Mum,
the jobs she had to take
to keep them
when his Dad passed at fifty-one.
"We were poor,
but we had good dinners."
On a Sunday
the Winkle Man'd come round
with his barrow or his van,
they'd go down the road
to the neighbours'
to watch telly.
"They were good days."
But not without their ups and downs.
Ray gets in a bit of trouble.
His Dad has a word
and the boy goes down
the Goldhawk Social,
puts on the gloves.
For three years he trains,
loves it, but "was never no good" –
not like his brother
who showed promise
and could kick a ball too.
He tried for QPR and got in,
but when their Dad passed,
a Brentford supporter,
he changed his strip.
He could have been a contender
Ray muses,
but "he discovered women".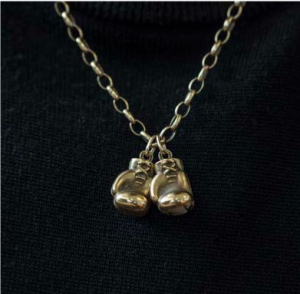 A memento of his old sparring days
gleams on a chain round his neck,
given to him by his son.
He's got memorabilia from Nigel Benn,
Chris Eubank – also presents from his son,
who he doubts knows what else to get him.
The ghost of the young pugilist
darts across the solid features
softened by life and time,
the jab
a friendly handshake now,
the hook
a good natured jibe.
You can take the dog out of the fight
but you can't take the fight out of the dog.
He got his diagnosis the day he retired.
Went for a test
cos he happened to be watching telly
and saw Bob Monkhouse in a Macmillan ad.
Like Dave
who went in with a sore throat
to find the problem was
"with the lower works"
it's a bolt out of the blue.
It was the gym that got him to Maggie's,
wasn't interested to begin with.
It's getting on five years now.
"The people who work here are diamond."
When he lost his second sister
he took it really bad.
He looks at Dave
working on his art,
it being Friday,
reflective.
"He livened me up."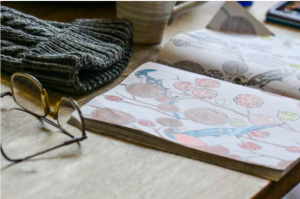 The busy colouring pencil stops.
Quickly he redresses the balance.
Tells how Dave phoned him up
beside himself
when his dog died.
He went round
and carried the beloved lurcher
who'd died on Dave's bed
down the stairs.
An act of camaraderie
to be expected
from an Inseparable.
The missing Musketeer
Andreas
is known for his paella
and mean patatas bravas.
But he's not eating.
"He's not all that clever,"
says Dave.
Time passes.
Andreas is not mentioned.
When I ask
fearing the worst
Ray lights up.
"He's sounding perky.
Bright as anything."
He hadn't seen him, just talked.
"Andreas says the food's not bad at all
in the Care Home."
Then it's all changed.
Andreas wasn't eating after all,
just said so
to please his sister.
Ray goes to visit,
sees him take three spoons of soup
and wave the dinner away.
He's brought diet coke
but there's no fridge in the room
so Andreas drinks half, leaves the rest.
Won't drink it warm.
He hates it there
but they won't move him now.
"He's dying," says Ray.
The words settle on the air
nowhere to go.
In Margravine Cemetery
long fingers of elder
bow to the earth
beckon the silence.
The Third Musketeer
passes
on a full moon
in partial eclipse.